Technical Services
With over 30 years of corporate experience, our technical design services include preparation of designs, plans, profiles, and cross-sections; technical specifications, bid packages, and cost estimates; and project management for planning, quality control, and construction monitoring. Design Nine performs track inspections for upgrades and salvage value, develops and revises track charts, reviews and develops exhibits, and monitors utility installations. In addition, we can provide feasibility studies for track construction, relocation, rehabilitation, and realignments.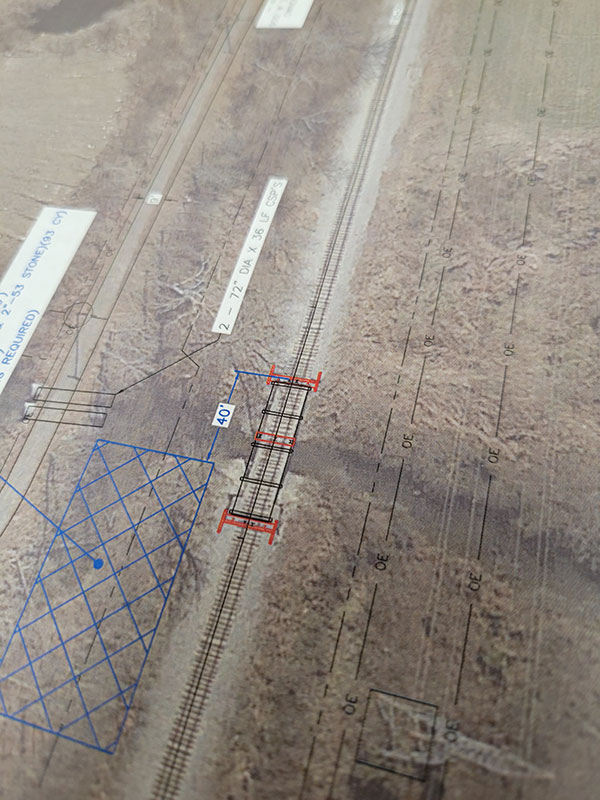 Track Inspections / Reports of Line Condition and Valuation

Structural Inspection/Reports

Project Cost Estimation

Engineering Support for Derailments and Embankment Slides

Quality Control

Scheduling

Estimating

Feasibility Studies

Project Planning

Project Inspection

Budget Tracking

Construction Monitoring
---

Feasibility Studies
Analysis of Existing Facilities
Design Nine will survey and study current rail facilities and capacities to provide recommended improvements in capacity, operations and/or maintenance concerns.
Future Rail Service Planning
Future service and operations expansions will be studied to summarize planning for expenditures on equipment procurement and facility maintenance for many years to come.
Construction Cost Estimates
Using up-to-date knowledge on recent rail projects, we can develop early cost estimates to provide our clients with powerful up-front planning tools. As designs and plans are further refined, so too can the cost estimates be updated to provide a cost estimate with a high degree of accuracy.
---

Drafting Services
Computer Aided Design
Design Nine has a team of Engineers and Draftsman available to prepare designs and construction plans for a wide breadth of track projects. We have the capability of producing CADD files utilizing both Autodesk (AutoCAD, Civil3D) and Bentley (MicroStation, InRoads, OpenRoads) products.
Plan Preparation
Based upon the designs created using Computer Aided Design programs, we will prepare plans from which the project will be constructed. These plans include plan and profile sheets, details, cross-sections, and many other sheets to describe the work to be completed. These plans would then be sent out to bid for construction by the contractor of your choice.
Exhibit Development
In addition to plan development, Design Nine would develop all other documents required for construction. These include exhibits for legal agreements, regulatory bodies, and construction specifications.
---

Documentation
Project Management
With extensive field knowledge of track construction, our Engineers can be on site and present during construction activities to observe work performed and manage the flow of money and materials for the project.
Materials Inspection
Our Engineers will inspect construction materials procured by the contractor to ensure the materials will perform as needed and inspected after installation. This material includes rail & other track material, ties, stone ballast, base rock, embankment, drainage structures and structural elements that support the overall track structure.
Construction Monitoring
The progression of work in person by our knowledgeable Engineers will ensure the project is completed per design and with minimal additional construction costs.