Railway Engineering
Our Track Department offers a wide array of railway engineering services, including: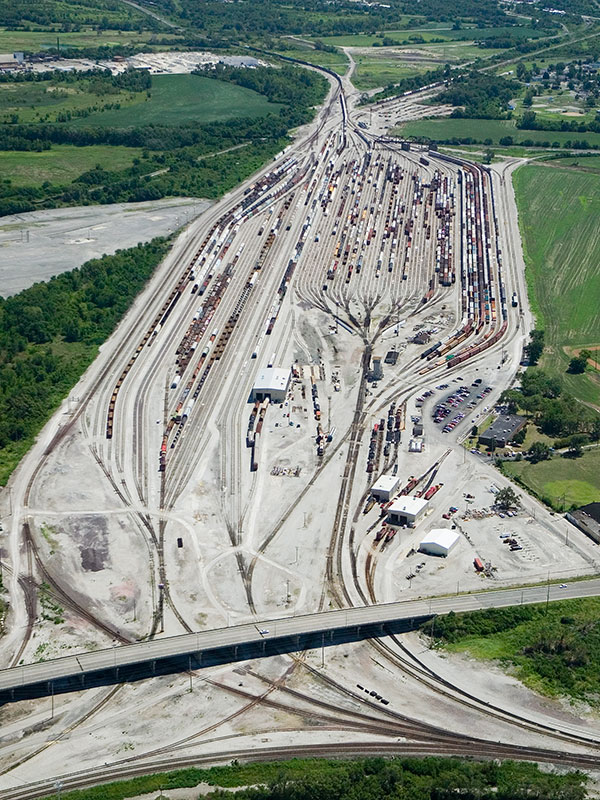 New track facility design

Reconfiguration of existing track facilities

Rail yards, sidings, and mainline trackage

Industrial leads, loops, spurs, and yard tracks

Coal mines and energy, chemical, and grain facilities

Design of intermodal and auto-handling facilities

Emergency Derailment Surveys with 24-Hour Response

Grade crossing & accident investigation surveys

Drainage surveys

Crossing diamonds / interlocker surveys

Detailed geometry surveys including turnouts and special track work

Construction staking and layout
Design Nine has the experience and expertise to handle railway engineering in all types of environments, such as coal mines and energy, chemical, grain, intermodal and auto-handling facilities.
---

Site Development
Design Nine strives to meet your surveying needs in many areas including location surveys, derailment surveys, bridge situation surveys, construction layout for track and bridge, and settlement/alignment monitoring. We perform our own surveying services in-house to provide a better end product for our customers.
Existing Facilities Design
Field work for a project begins with an on-site topographic survey to locate ground topography features and other important site characteristics and features. Out data can be calibrated to USGS coordinate datums or site-specific coordinates as desired by the client. We will be up-to-date on any training requirements and participate in site-specific training as the need arises on specific projects.
Construction Support
Once a set of plans has been completed, Design Nine will utilize the information on the plans to lay out the proposed work as it relates to the site. We have the capability to interpret and follow plans created in-house, by the client or prepared by other Engineering firms. We do not perform the construction work ourselves but can offer recommendations on many construction firms with which we have worked over the years.
Inspection and Monitoring
During construction, Design Nine can inspect and monitor the progression and scheduling of work on site. Inspection of work completed by the contractor and materials purchased by the contractor can be performed to ensure that the final product follows the design, adheres to specifications, and provides the best final product for the client.
---

Facility Design
Our portfolio includes plans for improving existing railway facilities, assisting in the expansion of railroad facilities, and creating completely new railroad facilities for intermodal and auto handling facilities, hump yards and flat-switching yards, sidings, and mainline trackage.
Green Site Development
New facility developments often involve the coordination between many different engineering firms, focuses and specialties. Design Nine can perform in both the role of the lead site designer or as a part of a larger design team.
Capacity Expansion
Most track expansion projects involve the addition or replacement of existing tracks inside of existing facilities. Design Nine will work within of the constraints of existing operations to ensure improvements are performed with minimal operation downtime.
Geometric Improvements
Existing track facilities are often based upon track designs and site constraints that are decades old, often over 100 years old. This sometimes leads to operational constraints, maintenance concerns and even derailments. Design Nine will analyze the current facility layouts and provide a design to improve existing facilities to provide smoother, more easily maintained operations.
---

Industrial Trackage
Design Nine produces rail designs that lead to new or existing grain elevators, power plants, ethanol plants, frac sand facilities, mines, chemical plants, refineries, steel mills, and other facilities. We also provide all-encompassing plans for improvement to existing industry track expansions, improvements, and entirely new projects. When it comes to industrial trackage, Design Nine is the liaison between the industry and the railroad for submittals and approvals. From conceptual design to final construction plans, we handle your project with care and work to exceed your expectations.
Conceptual Plans
Track plans start with a simple idea – How can increase my ability to transport materials? We will explore simple solutions to narrow in on an option worth pursuing.
Site Expansion
A concept in hand will help kick-start the rest of the design process.
Facility Improvements
Whether expanding current rail capacities or rehabilitating existing facilities, Design Nine has the plans to help you move forward.